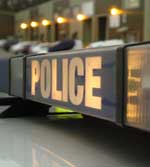 An underage 16-year-old girl is recovering after being attacked by another teenager in a Dover bar.
She was left with a swollen jaw and eye after the assault by the older girl in the Party Bar, in Church Street.
The victim was in the bar with her friend - another underage girl - when she was targeted.
It comes after a string of complaints about underage drinking in Dover pubs and clubs.
Police are now warning bar owners to ensure their staff ask customers for ID or face punishment.
PC Chris Stephens, a licensing enforcement officer from Kent Police, said: "Licensees have a legal responsibility to ensure no one underage is served alcohol on their premises.
"In a well-managed pub or club, I would expect all bar staff to ask anyone who looks underage for their identity and to make sure the ID presented is genuine and valid. It is an offence to serve underage people alcohol and bar staff can be held liable and could be fined.
"In addition to this the premises could be subject to a review, which could result in the licence being suspended or revoked.
"I would also urge parents to ensure they know where their children are and that they are not drinking alcohol in public and certainly not visiting pubs and clubs."
Police have just released details of the assault, which happened late on Friday, February 1.
Witnesses are asked to phone Kent Police on 101, quoting crime reference ZY/3301/13.