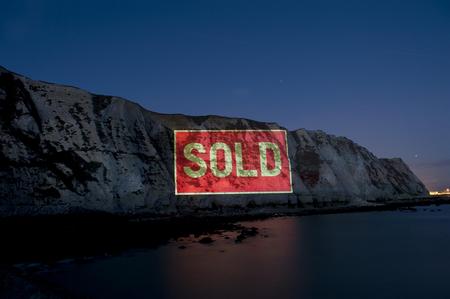 The photograph was taken from Samphire Hoe, as two giant projectors projected the Sold sign onto the cliffs. Photo by Kieran Doherty/Oxfam.
The White Cliffs of Dover were "sold" this morning as part of a campaign by Oxfam to combat land grabs in developing countries.
Oxfam erected similar signs the length and breadth of the British Isles from Barry Island to Norfolk and from the Clifton Suspension Bridge in Bristol to the Angel of the North as part of their ongoing campaign to stop land grabs, which leave poor people in Africa, Asia and Latin America homeless and without access to the land they rely on for food to eat and to make a living.
Oxfam is asking the World Bank to freeze land deals for six months. This would enable communities who otherwise would lose their land and their only means of feeding their families.
Lisa Rutherford, who is Oxfam's Media Manager for Kent, said "With land the size of Kent being sold off every 13 days in the world's poorest countries, more and more poor people are at risk of having their land grabbed from beneath their feet. We wanted to sell the White Cliffs to bring home to people in Kent the issue of land grabs. Land grabs often happen with no prior consultation – imagine being thrown off your land without warning and finding yourself homeless, landless, penniless and at risk of violence".
In its report, Our Land, Our Lives, international development agency Oxfam explains that land eight times the size of the UK was sold off globally in the last decade, enough to grow food for a billion people. This is the equivalent to the number of people who go hungry in the world today.
The agency also warns that more than 60 per cent of investments in agricultural land by foreign investors between 2000 and 2010 were in developing countries with serious hunger problems. And that the majority of those investors plan to export everything that would be produced on that land, leaving the local communities with no chance to feed themselves.
Oxfam says the World Bank must act now to temporarily freeze its agricultural investments in land so it can review its advice to developing countries, help set standards for investors and introduce more robust policies to help stop land-grabs.
For more information on the campaign, visit www.oxfam.org.uk/sold