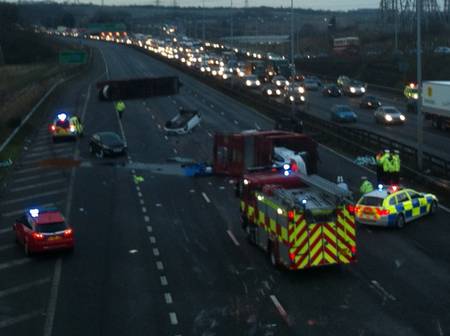 A car transporter driver remains in a serious condition today after his vehicle overturned - spilling cars across the A2 carriageway.
The London-bound carriageway, between Pepperhill and Ebbsfleet, was shut yesterday after the crash at about 3pm, but has now reopened.
Kent Police said the road was cleared by 12.40am after the lorry and debris were recovered.
Two people were injured when the car transporter overturned and is thought to have split in half - spilling some of its cars across both carriageways.
At least one car on board "flew" over the central reservation and hit another car.
The lorry driver was taken to hospital with serious, but not life-threatening injures, and another motorist suffered minor injuries.
Rush-hour queues stretched back several miles into the evening and diversions were put in place.
The coastbound carriageway was shut for about two hours, but tailbacks stretched back to the M25.
Some vehicles broke down when they ran out of fuel or suffered flat batteries and needed to be recovered from the hard shoulder.
Police handed out blankets to motorists stranded in freezing conditions.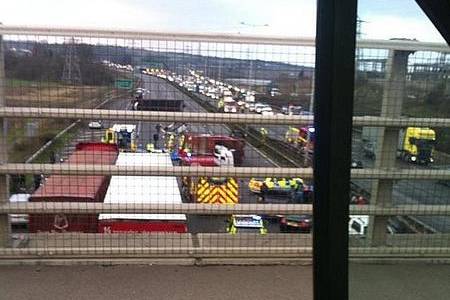 Tim Cay, 35, from Higham was riding his motorbike when the crash happened.
He said: "In the distance I've seen this car, it looked like it was flying, I thought it had fallen off the bridge above.
"It reminded me from something from the film The Matrix, when they're all going through traffic and crashes were happening around it."
"I didn't see what happened to the lorry but as I got closer, it was on its side with its underneath facing me, it must have had 12 cars on it, all brand spanking news Hyundais - never seen anything like it in my life."
Also speaking at the time of the crash, Wilmington resident Michael Cook said: "The traffic is everywhere and no one really seems to know where they're going.
"There are cars everywhere, I think they're Audis, but these beautiful cars have been ruined."
PC Paul Soesan, of the Roads Policing Unit, said: "I'd like to thank motorists for their cooperation while we assisted the two injured people and recovered the lorry and debris caused from this incident.

"I'd urge anyone with information, including those who saw the transporter before the incident, to contact Kent Police by calling 101."