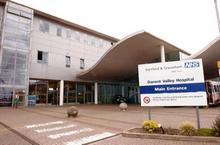 Maternity services at Darent Valley Hospital are to be improved with an NHS cash injection.
The hospital is one of four in the county, and 100 in England, to share the £25m government handout.
The money will be used to provide a birthing pool and equipment to help women move around during labour.
Improvements will also be made to overnight facilities for partners, such as recliner chairs and a dedicated fridge, and to the women and family areas on the labour ward.
Clinical projects midwife Katie De Freitas said mums-to-be and their birthing partners had been involved in planning the new facilities.
"I am delighted the maternity bid has been well received and that we were successful in securing the funding to enhance our birthing environments," she said.
"We are thrilled that women continue to have the opportunity to shape the future of their local maternity services."
Darent Valley Hospital has recorded about 40,000 births since it opened in September 2000. Annual numbers have increased over the years from an average of 2,500 to 5,000.
This is largely due to an increasing population of foreign mums-to-be, as well as the closure of maternity services at Queen Mary's Hospital in Sidcup.