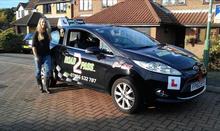 A driving instructor has been caught up in the increasingly complicated Kent County Council's rubbish recycling system.
Jan Sterry, from South Darenth, was turned away from the Teardrop Centre in Swanley because her car was classed as a commercial vehicle.
It comes after we reported on the Gravesend hypnotherapist being refused at Pepperhill tip at Southfleet because she had advertising on her 4x4.
Andrea Leistra wanted to get rid of some branches and old clothes – nothing to do with her business – but council staff classed her sign-written Land Rover as a commercial vehicle.
In Maidstone another driving instructor was turned away from Tovil tip but allowed back in when he peeled his signs off.
Jan, who lives in Montgomery Road, wanted to get rid of some household waste but was turned away because of advertising on her Ford Fiesta.
Under new KCC rules, the women could apply for exemption vouchers but Jan says the process is "ridiculously confusing and contradictory".
A spokesman for the Household Waste and Recycling Centre (HWRC) said people should apply for the vouchers online.
However, the form states: "Vouchers will only be issued to householders whose household's sole vehicle is constructed or used as a commercial vehicle and is also taxed as a Light Goods Vehicle (LGV)."
Jan said: "The problem is my vehicle is a car and taxed as a petrol car, not as an LGV."
As of March 1, 2001, the DVLA classes LGVs as vehicles which have been specifically designed for the carriage of goods.
All cars weighing less than 3,500kg are classed as petrol, diesel or alternative fuel cars.
Jan said: "I didn't fill in the application because the Fiesta obviously doesn't meet LGV criteria.
"What type of commercial waste can I be bringing in for heaven's sake? I am a driving instructor."
Sue Barton, waste manager at KCC, said: "We recognise that a few households have a single vehicle which is a commercial vehicle.
"In these circumstances, if the commercial vehicle is under 2m in height and weighs less than 3.5 tonnes, then the householders may apply for the exception scheme."
This is contradicted by the LGV stipulation on the form itself but it raises another problem because of the number of cars a household has.
Jan said: "It's just ridiculous and not very well thought out."