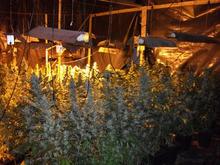 A drugs factory with £290,000 worth of cannabis has been uncovered in Northfleet.
Police raided a warehouse on Grove Road last Wednesday (November 28) and discovered about 500 plants worth about £200,000 along with 20 kilos of dried cannabis in trays with an estimated street value of about £90,000.
Drugs liaison officer Adrian Parsons said: "There was a significant number of plants and dried cannabis seized following a tip-off from Crimestoppers.
"Most of our finds are residential dwellings and it is fairly unusual to come across one that is a commercial set-up."
No arrests have been made, but if anyone has information call 101 quoting reference XY/036520/12.