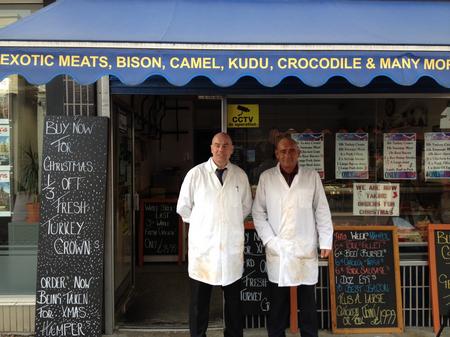 Fed up of hearing of horsemeat hidden in your lasagne or burger?
Well, one Gravesend butcher is hoping to take the humble nag off the front pages and put it into your fridge!
Shop manager Scott Cassettari of Danslow's in Gravesend, hopes horse will soon be the mane attraction in families' meals.
He is convinced the much-maligned meat could be a stable part of people's diets - and has ordered a big batch of horse steaks.
It comes after the nation was rocked by news horsemeat DNA had been found hidden in processed food sold in supermarkets across the country.
Danslow's, in Windmill Street, is already famous in the town for stocking a variety of exotic delicacies such as kangaroo, ostrich, crocodile and squirrel for those who have the more adventurous palate.
"i think 75% of people would like to taste horse, but it is important that people know what they are eating" – shop manager scott cassettari
Now Mr Cassettari is challenging meat eaters to stretch their palate further, and taste test some epicurial equine treats.

He said: "I think 75% of people would like to taste horse, but it is important that people know what they are eating."

"I've had people ask for horse steaks before: in France it's a known tradition like sirloin steak is in England."

The butcher said he upped his debut order after hearing that demand for the meat had "gone crazy" since the scandal broke last month.

Since then a number of local meat farmers and butchers, including J M Danslow's, say they have seen more customers through their doors because people have lost faith with supermarkets.

Scott said: "They are not coming in their droves, but customers have told us they are fed up with what's going on.

"Hopefully people will realise there are businesses out there that care, I don't always think the average customer gets that from the big boys"

"We listen to our customers and we would never cheat them."