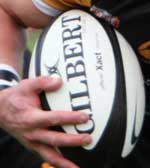 A second-half fightback wasn't enough to save Gravesend from a 38-20 defeat at Westcombe Park on Saturday.
Gs made a bright start to the National 3 London & South East match, with Charlie Cutting crossing the line for a 5-0 lead, but Park responded with three converted tries to open up a 21-5 advantage at the break.
Park scored either side of an Adam Bishop try to leave Gs trailing 31-10 early in the second half.
Gravesend rallied with Ziggy Stevens touching down, then Nathan Lines scored the visitors' fourth unconverted try.
But hopes of a comeback win were ended as Westcombe Park clinched a flattering victory with a late converted score.