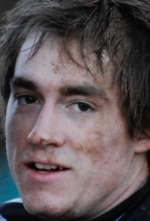 Gravesend's final home game of the National 3 London & South East season ended in disappointment after a last-gasp 24-23 defeat to Bracknell.
Despite 100 diners in attendance for Vice President's Day, Gs failed to rise to the occasion - unlike their lower-placed opponents who made the most of some inept defending.
A lack of cover allowed Bracknell to cross for their first points, and, although Dave Dorton (pictured) replied with a penalty, the away side broke through again for a second unconverted touchdown.
Ziggy Stevens took play to near the line before passing to Tom Goss, who crossed for Gravesend's first score, and Dorton added the extras to level the game at 10-10.
Hopes of a home win were boosted when Ziggy Stevens forced his way through for Gravesend's second try, but the visitors added a late first-half score when presented with an open way to the line in added time. They kicked the extras to lead by two points.
Bracknell, down to 14 men at the start of the second half, managed to restrict Gs to a single Sox Stevens try, although Dorton was successful from one of three penalties to move the score on to 23-17.
And as the clock ticked past the 80-minute mark, Gravesend were almost home and dry, but a quickly-taken Bracknell penalty led to the hosts giving away yet another soft try. Bracknell then held their nerve to kick the winning points.