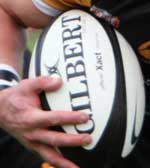 National 3 London & South East League leaders Bishop's Stortford overwhelmed struggling Gravesend with five first-half tries on their way to a 48-25 win.
The Gs were level at 3-3 before James Rae, Jono Child, John Stocker and Hamish Irving all touched down for the home side.
Rae doubled his tally to put Stortford 34-3 ahead before Ziggy Stevens went over for Gravesend's first try on the stroke of half-time.
Jamie Forsyth scored for the Gs after the restart and David McMurtrie added the extras but a Wayne Childs interception try kept Stortford well clear.
A second Stevens try and one for Dave Riley helped close the gap but Stortford had the last word when Rae completed his hat-trick.
The defeat leaves Gravesend two points above the relegation zone.