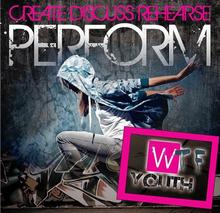 Bosses at The Woodville theatre in Gravesend have defended the decision to name a theatre group WTF.
WTF Youth stands for the Woodville Theatre For Youth - but is the same as a widely-known expletive acronym.
Gravesham Borough Council said it would not be changing the name for the group, which has members as young as eight.
A spokesman said: "It has been running successfully for some months and there have been no issues with the branding.

"If people read into this something that isn't there, that is a matter for them."
The name of the group has sparked a debate on Facebook.
Mark Langley said: "This is really poor. I don't expect this sort of thing from a professional organisation."

Meanwhile, Jacquii Alexander-Smith said: "It has got people talking about it and noticing so I guess that's the result they wanted. Clever bit of marketing if you ask me."

Courtney Mires said: "It would only matter to those who are immature enough to let it bother them. It's some initials, so what?"
Formerly known as The Woodville Players, WTF Youth was launched in September 2012.
What do you think? Join the debate below.