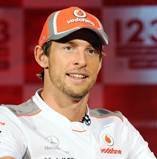 Formula 1 star Jenson Button wowed fans at Bluewater at the weekend.
Santander hosted an Audience with Jenson Button on Saturday and the Vodafone McLaren Mercedes driver and 2009 F1 World Champion chatted to shoppers.
They were able to take part in a Vodafone McLaren Mercedes simulator challenge and join in interviews with Jenson.
It was all part of a Santander promotion showing shoppers the benefits of the 123 Current Account and credit card.