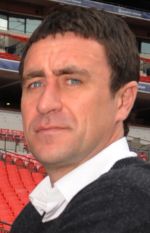 Liam Daish believes a permanent training facility and the right budget are imperative if Ebbsfleet are to have any chance of regaining their Blue Square Premier status next season.
In a wide ranging open letter, part of an 18-page document sent to MyFootballClub members and other supporters at the weekend, Daish said: "When I first arrived at the club, a part-time playing budget of £7,000 a week was in place, which was more than I was working with last year with a full-time squad.
"Five years on and a bit of success and the odd player being sold along the way (John Akinde, Michael Gash and now Darius Charles), I think I have proved I can remain competitive if I have basic tools."
He added: "A training facility is essential to full-time players.
"They are young players who deserve a working environment to improve as a team and also individually, physically and technically. The players did not have that last year.
"Going forward, this has to be addressed and made a priority if the club wants to remain full time. If we have no facilities, there is no decision to make on whether we go full or part-time.
"Our budget and facilities I believe will reflect our desire and aspirations of getting back to the Blue Square Premier.
"We are entering a league of clubs desperate to go where we have been for the last nine or 10 years and each will be doing everything on and off the pitch to make it happen.
"We must decide now what we want to do and be comfortable with it."
Daish reveals that the lack of a permanent base forced him to use "whatever facilities we could find" including 3G pitches, local public parks and the Stonebridge Road pitch. He says the decision made by former chairman John Moules to move from Fleet Leisure at Northfleet to the AEI Sports Ground in Gravesend backfired.
Daish said: "By October/November we could no longer train at AEI as the premises were subject to takeover by new owners and we had no showers or pitches."
Portable goals, rehab and condition equipment, bikes, rowers, weights and other machines are still at the Dunkirk Close site, now owned by Kent Sports Club.
Fleet chairman Duncan Holt confirmed that budget figures of between £3,500 and £6,000 a week are now being considered by MyFootballClub members.
He said: "They will have two or three days to look at them before we push them for a decision later this week."