Politicians, friends, family and neighbours stood six deep at a
service of thankgiving today for the former Leader of Gravesham
council.
Cllr Mike Snelling (Con) died days after returning from a family
holiday in Australia.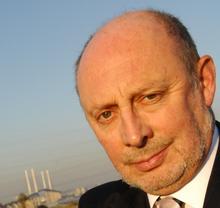 Tributes were paid to his role in the community as a parish councillor
in Meopham, borough councillor in Gravesham and as Gravesham Rural
councillor on Kent County Council.
The Leader of KCC, Cllr Paul Carter, revealed at the service in St
John the Baptist church, Meopham that Cllr Snelling had been nominated
for an MBE in the New Year's Honours list.
Among the many tributes paid at the service, he was credited with was
helping Gravesham's Sikh community to build Europe's biggest gurdwara
(community temple), befriended the local muslim community, worked on the restoration of the Old Town Hall, the provision of Gravesend's new pontoon and moorings, Gravewsend's new skate park and the building of the cyclopark next ot the A2.
Above all, he was credited with being a great family man for his wife,
their two daughters and four grandsons.
He was cremated following a private family service.