The mother of a 12-year-old girl seriously hurt when she was hit by a car and a bus in Gravesend has thanked everyone who helped her.
Amanda Pryor said daughter Jade Phillips is now in a stable condition after the crash on her way to school yesterday.
The youngster, who attends St John's Catholic Comprehensive School, was struck by a car in Rochester Road at about 8.15am.
She is believed to have then been thrown into the path of a number 480 bus - and ended up trapped under the wheels.
Jade is now in King's College Hospital, London, with a fractured skull and collarbone.
Mother Amanda said on Facebook: "Would like to say a thank you to the paramedics, firemen and police, particularly one called Richard who spent most of the day holding my hand.
"Kim for staying with Jade while she was trapped and all the staff at King's who are doing there best for Jade and everyone who has sent me and Lee lovely messages. She's sleeping now and in a stable condition xx."
Jade was with her mother when she was hit near a parade of shops in Rochester Road.
Crews from Kent Fire and Rescue Service had used air bags to release her from under the single-decker bus.
An Arriva spokesman said: "We can confirm that an Arriva bus on route 480 was involved in an incident involving a young girl in Gravesend this morning.
"Early reports indicate that the child was hit by a car on the other side of the carriageway and then thrown into the path of our bus travelling in the opposite direction.
"We are fully co-operating with the police into this extremely tragic situation and at the moment our thoughts are with the family of the young girl as she is treated for her injuries."
Police officers stopped traffic between the Lion roundabout and the Milton Ale Shades pub.
James Gaywood was on his was to North West Kent College on the bus behind the one involved.
He said: "We just saw a crowd of people around the bus and knew something must have happened.
"We saw somebody was laying under the wheels, under the front wheel axel, of the bus. We just heard people trying to comfort the girl."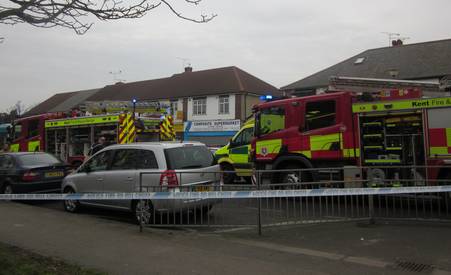 Witnesses are asked to the phone the Kent Police Serious Collision Investigation Unit on 01622 798538 or Crimestoppers, anonymously, on 0800 555 111.