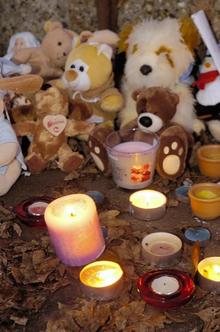 A man inflicted multiple injuries on a month-old baby in a frenzied and brutal assault which left the child close to death, a court heard today.
Nathan Rawling caused 26 fractures to ribs, fractures to both collarbones and a "spiral" break to the right arm, it was alleged.
Trauma to the chest punctured both lungs, leading to the baby having a heart attack and stopping breathing.
Prosecutor John O'Higgins told a jury of six men and six women at Maidstone Crown Court there was also "a particularly shocking injury" to the 31-day-old baby's genital area.
Rawling, formerly of St Gregory's Crescent, Gravesend, denies causing grievous bodily harm with intent.
Mr O'Higgins said the baby, who cannot be identified for legal reasons, was taken to Darent Valley Hospital on the morning of December 1 2011.
There was no doubt, he said, the child was at the point of death and only the skill of medical staff saved its life.
Rawling told police although he did not know how to perform CPR, he had blown into the baby's mouth and pushed on its chest after noticing it had turned blue and stopped breathing.
Mr O'Higgins said it was 36-year-old Rawling's explanation for the baby's chest injuries.
The broken arm was caused, he claimed, when he grabbed the baby to restart CPR.
Rawling, who worked as an electrician for Kent County Council, claimed the injury to the child's genitals were caused when he knelt on it.
"Medical experts are unanimous in rejecting this explanation," said Mr O'Higgins.
The prosecutor said Rawling had accepted causing the injuries in a misguided attempt to save the baby's life, but had since changed his defence.
He now said he accepted the medical evidence and the only possible explanation was that the injuries must have been inflicted by the child's mother.
Mr O'Higgins said: "The prosecution case is in the hours before arriving at hospital, the baby was subjected to a frenzied, brutal and repeated assault by Nathan Rawling.
"It could only have been done to cause really serious harm. It may be he did try to save the baby and perform CPR, but if so it was because only moments before he had almost killed (the child)."
Rawling's QC Jane Humphryes submitted the defence had not changed.
The trial continues.