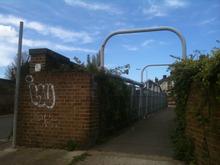 An 11-year-old boy has been punched in the face by a teenager and robbed of his scooter.
The youngster was walking along Vale Road, Northfleet, and, as he crossed the iron railway bridge, he was approached by an older boy.
The older boy punched him in the face and stole his JD BUG scooter that has a distinctive black and pink checked pattern on the deck.
The offender is described as a white boy aged around 14. He was between 5 ft 6 and 5 ft 8 in with short brown hair and was wearing a black hooded top and dark bottoms.
Police are now appealing for anyone who may have seen the incident, which happened at 6pm on Thursday, April 26, to come forward.
If you witnessed the robbery have any information about the offence or know the whereabouts of the scooter, to contact DC Chris Mason on 101 quoting reference XY/12769/12.
Alternatively, cally Kent Crimestoppers anonymously on 0800 555 111.