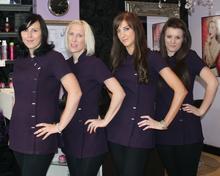 A former soldier swapped her skills in the army for that of scissors and straighteners.
Davina Dhillon has run her salon Head Rush in Singlewell Road since July - but has not had a single man visit for a trim.
The 32-year-old, who was in the Royal Engineers, said: "Apart from my husband I don't think I've had any men come in, most of them go to the barbers.
"If they were to come here, they'd perhaps get a bit more pampering - a head massage, wash, and condition, even a cup of tea."
The mother-of-three had to give up her army career after suffering from shin splints, but was able to fall back on hairdressing, a skill she'd learnt at college.
She added: "When I came out I went straight into hairdressing. I've just completed a trek across the Great Wall of China to raise funds for JDRF - Diabetes Research.
"I raised £3,000 and did it because my son Jeevan has type one diabetes and it's his charity.
"Because of his condition it's the research that's so important and they're trying to find a cure.
"He's had it for two years and has to have six injections a day of insulin.
"I'm hoping to do Kilimanjaro in two years' time."