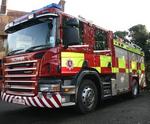 A horse had to be rescued by fire crews from an overgrown ditch in Higham.
The 16-hand Belgian Draught mare was found by her owners off a field in Lower Higham Road at about 11.30am on Thursday.
An officer from Thames-side fire station went to the scene to assess the situation before calling the fire services's specialist animal rescue unit.
However, a team from East Sussex had to attend as the one based at Faversham was unavailable. Thames-side firemen also assisted in the four-hour operation to rescue the chestnut mare.
Watch manager John Allwright said: "It was a very big horse and was stuck in an overgrown trench full of brambles.
"It had fallen into a big hole and was lying on its side. It was sedated by a vet and we then helped the animal rescue unit to attach pulleys underneath it.
"It was then lifted to safety while asleep."
The horse did not appear to be injured, although it is unknown whether it was immediately returned to the field.