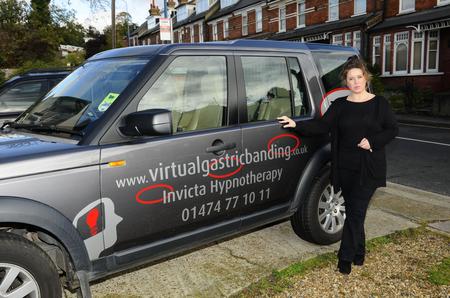 A A hypnotherapist was stopped from using a tip over fears she was dumping business waste.
Driving her Land Rover to the Pepperhill recycling centre in Station Road, Southfleet, mum-of-one Andrea Leistra was told to leave because she might be dumping commercial waste.
In reality, she was ditching some branches and some old clothes.
The 42-year-old, who runs Invicta Hypnotherapy at Waterman House, Lord Street, Gravesend, said: "My car is a Land Rover Discovery and has some advertising on the side for my hypnotherapy practice.
"At the tip, they said we were not allowed in as the advertising turned our private car into a commercial van. It's clear what my business is. It makes you wonder what commercial waste they think I'm carrying."
Andrea, who lives in Singlewell Road, Gravesend, has one other vehicle – a motorbike.
She added: "We were told by KCC that Land Rovers and Range Rovers are no longer admitted as builders use cars like these to carry rubbish. It has all of its seats and leather interior and is hardly the kind of car builders would use to transport waste.
"If you wanted to avoid it though, surely you could just buy a cheap second-hand car and dump it like that? It doesn't make much sense."
Sue Barton, waste manager at KCC, said the changes, brought in at the beginning of October, came about because of public opinion.
She said: "Unfortunately, there have been a small number of traders who decide to flout this rule and we have responded to wide public opinion to prevent this from happening by introducing these restrictions.
"The changes bring Kent in line with most other authorities, including Medway, by preventing access for commercial-type vehicles.
"We recognise that a few households have a single vehicle which is a commercial vehicle.
"In these circumstances, if the commercial vehicle is under two metres in height and weighs less than 3.5 tonnes, then the householders may apply for the exception scheme.
"This will give them vouchers that will enable them to deposit household waste only."
Andrea added: "The scheme is for commercial vehicles, which I don't have, so there should be some other form of exemption for private cars that may have advertising for any kind of business, which so obviously do not produce waste of any kind."