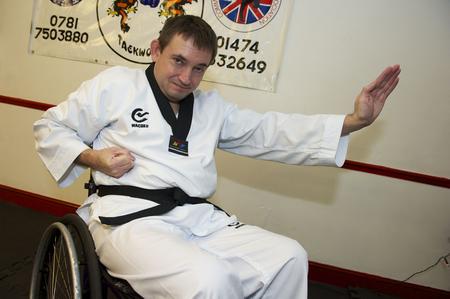 by Alan Watkins
A man confined to a wheelchair after breaking his back in a crash has become a martial arts black belt.
Paul Irons, 49, threw down the challenge to his teacher more than three years ago.
The instructor, Frank Fallon, had just met Paul – a part-time learning support assistant at North West Kent College in Dartford – while promoting taekwondo in Gravesend.
"I'd been saying that I could teach anyone, whatever their disability," said Frank. "He said he bet there was nothing I could do for him."
Frank is the sensei (teacher) for Twin Dragons Taekwondo and its toddlers' group, Baby Dragons, which meet at Cascades Leisure Centre in Thong Lane, Gravesend.
One problem was that taekwondo is a kicking martial art, and Paul cannot use his feet after breaking his neck in a car crash nearly 30 years ago.
Frank said: "It was really challenging. I had to rewrite the taekwondo syllabus, and he had to work hard to do it."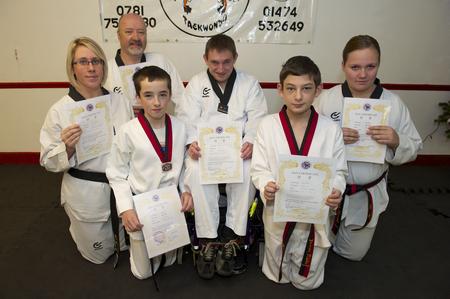 Instead of using his feet, they developed a programme where Paul used his fists – and the wheels on his chair.
Paul, of Augustine Road, Gravesend, said: "It is very hard at the moment, but I would say to anyone in my sort of situation: don't be afraid. Give it a try."
There are seven grades of black belt - and Paul is determined to progress further, but will have to wait a year for his second dan.
Frank said: "I am now hoping to find a wheelchair basketball team who will be able to help with training him to use his wheels more."
He received his black belt at a ceremony at the club attended by other new and recent qualifiers.