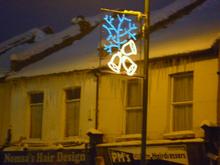 Christmas lights that adorned Swanscombe High Street have been removed because of health and safety fears.
The lights were only put up last week but a survey by Kent County Council has revealed that the lampposts the lights were hanging from are not safe.
A spokesman from Swanscombe and Greenhithe Town Council said: "Every year the town council is required to apply for, and be granted, permission from Kent Highway Services to install the Christmas lights on the columns in the High Street; this was carried out in the normal manner and the lights were put up.
"Unfortunately KCC are in the process of carrying out a structural survey on all the lamp columns within Kent and as part of this structural survey we were subsequently notified that the columns we had Christmas lights on were 'code red' and that we were required to remove the Christmas lights as a matter of urgency."
KCC informed the council that code red means that the street light column has a defect which cannot be repaired and therefore cannot have any additional loading or weight added to the column.
The spokesman added: "As frustrating as it is, I trust you will understand that this has taken the matter out of the control of the town council."