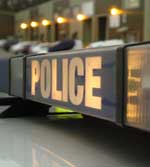 A young woman desperately tried to shield her boyfriend from being attacked by a gang of thugs.
The 20-year-old was punched and had her hand stamped on as she attempted to protect her partner, 21, from being seriously injured.
The couple, from Rochester, were set upon by three men in in Gravesend in the early hours of New Year's Day.
They were in their black Fork Ka in the Lord Street car park when they were targeted at around 4am.
The gang punched and kicked the man before hitting his girlfriend and stamping on her hand when she tried to cover him.
It is thought the trio then attacked another couple further up Parrock Street on the same night.
That couple needed to go to hospital for treatment - but have not yet come forward to report the assault to police.
The victims in the first attack managed to drive off when two passers-by, both men, came forward to help.
Kent Police, who today released details of the attack, would like to speak to the two good Samaritans.
"this was a nasty and unprovoked assault on a young couple and resulted in serious injuries..." – pc stephen ikebuwa
One has been described as a white man, about 25 and was wearing dark trousers and a black checked shirt.
The three attackers are described by police as white men with Gravesend accents.
The first was slim and blond, thought to have been wearing a black jumper and beige trousers.
The second was wearing maroon shoes, while the third was wearing an aqua blue sweatshirt and light trousers.
PC Stephen Ikebuwa said: "This was a nasty and unprovoked assault on a young couple and resulted in serious injuries – but the injuries would have been much worse if it wasn't for the timely intervention of these two men.
"We are appealing for witnesses in relation to the assault in Lord Street car park and would especially like to speak with the males who intervened. We would also urge the couple that were assaulted in Parrock Street to contact police."
Anyone with information is asked to phone Kent Police on 101, quoting crime reference XY/0016/13, or Kent Crimestoppers anonymously on 0800 555111.