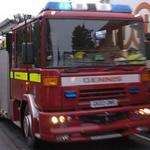 Two women had to be rescued this morning after they found themselves locked in their own home.
Thames-side crews went to the house in The Hill, Gravesend, at 7.25am after the lock on the front door failed and the women were trapped inside.
One of the firefighters who attended said: "We prized the door open from the front and managed to let the ladies free.
"One of them legged it straight away because she was late for work."