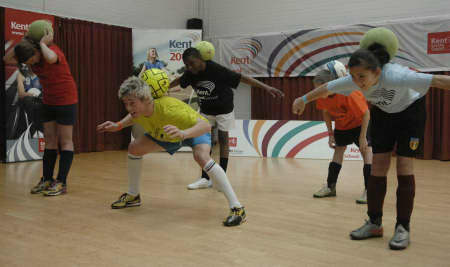 The latest installment of the Kent School Games has been launched amid great ceremony.
This year sees the third running of the event, with some 35,000 youngsters from more than 500 Kent and Medway schools due to take part in competitions, which will culminate in 87 finals in 36 sports held at 15 venues.
The University of Kent played host to the first finals of this year's competition on Thursday afternoon - the indoor sport of futsal.
The event was attended by a host of sporting stars including double-Olympic Great Britain hockey star Mel Clewlow, Olympic gymnastics hopeful Keziah Gore, Paralympic hopefuls Joshua Taylor (athletics) and Helen Sole (sitting volleyball) and England Ladies footballers Claire Rafferty and Dani Buet.
The ceremony featured a presentation from KCC cabinet member for Culture and Communities Mike Hill and a spectacular display from acclaimed football freestyler John Farnworth.