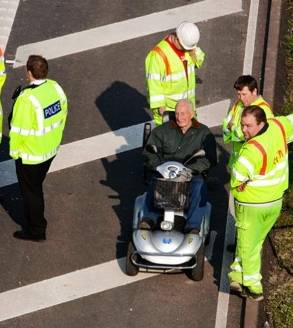 A 91-year-old was well and truly in the slow lane when he found himself on the A2 in a mobility scooter.
The pensioner was spotted on the busy dual carriageway near Dartford Heath travelling just a few miles per hour as other vehicles roared past him.
He was crawling along the slow lane heading coastbound towards Dartford but was intercepted by police just before the road's speed limit changes from 50mph to 70mph as it nears the junction for the M25.
Officers were alerted by other drivers concerned the man could cause an accident at about 3.30pm on Saturday, June 26.
A Met Police spokesman said: "Police organised transport to convey the rider home where he was spoken to and told that being on the A2 was not a good idea."
The incident is not the first of a mobility scooter being driven on one of Kent's major roads.
In April last year an 89-year-old man was spotted driving along the hard shoulder of the London-bound M20 at Cheriton, near Folkestone. Police and motorway workers came to the rescue.
The law does allow for mobility scooters to be driven on dual carriageways with a speed limit of more than 50mph, provided they are fitted with a flashing amber beacon to alert other road users.
However, The Highway Code and Department for Transport both advise against this.