It was an anxious morning for many but it seems all the hard work has paid off as the A level pass rate has improved across the county.
More than 7,000 pupils sat their exams at the start of the summer and many are now secure in their places at university or in training and employment.
Cllr Mike Whiting, deputy cabinet member for education at Kent County Council, said that was down to the hard work of staff and pupils.
"It is not an easier life for pupils today," he added. "The hard work of staff and pupils seems to be paying off.
"It is great for the pupils and gives them a stab at what is a very competitive year this year."
High fives and hugs were the order of the day for many Dartford students receiving their results.
At Dartford Grammar School for Girls every A level student passed, the fourth year in a row this has happened.
Josephine Ives, 18, of Dawson Drive, Hextable, received two A*s and an A and will read geography at Cambridge.
She said: "I'm so pleased - I'm really looking forward to it. I was really shocked and felt ecstatic."
Head teacher Jane Wheatley, who is retiring after next week's GCSE results, said: "They are excellent results. The girls have worked hard and got the results they deserve the results are outstanding.
"It's a good time to go out on a high."
Staff and pupils at Folkestone Academy were celebrating their best ever results.
At A-level there was a 100% pass rate with 78% of all grades at A* to C.
Principal Sean Heslop said: "This represents an outstanding achievement by the students.
"Im particularly pleased with our continued success in getting more and more students to university."
Sheppey students have set their own personal record year for results.
At the Isle of Sheppey Academy, there was a 99% pass rate, with students achieving A*- E grades.
That's an improvement on the 95.5% from last year.
Of that 99%, 67% of students gained grades of A* - C, which is an improvement from last year, too.
New academy principal David Day said: "The high academic excellence achieved by the students has to be applauded.
"The number of A and B grades is a testimony to the ability of our sixth formers and their teachers.
"The results are a major boost to the Island community because the employment, university and life chances of our students have been transformed."
Students at Gravesend Grammar School for Girls have also been celebrating after 83 per cent achieved A* - C grades.
"i was pretty overwhelmed, i just said 'wow' and not much else…" – rosie klement
Head teacher Elaine Wilson said: "Our students have worked extremely hard and we congratulate them on their success. We wish them well for the future."
Rosie Klement, of Mounts Road, Greenhithe, opened her envelope this morning to discover she picked up three A* grades in maths, English and history.
Rosie, who is studying law at Nottingham University in September, said: "I was pretty overwhelmed, I just said 'wow' and not much else."
Twins Iain and Isabelle Matthews from New Barn are studying at University College London and Warwick, respectively, after both achieved two A grades.
Click here for more results from Gravesend
The Norton Knatchbull School in Ashford achieved an overall pass rate of 98%, with 54% of students achieving all As or A*s.
Head Teacher Susanne Staab said: "We are absolutely delighted with the results."
"I'd like to congratulate all of our students for their hard work and the staff who prepared them for their exams."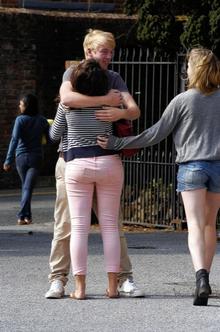 Ashford School, whose students are pictured left, achieved an overall pass rate of 100% with 63% of students achieving all As or A*s, a record for the school.
Head Teacher Mike Buchanan said: "The school has done incredibly well.
"As a result most students have got the places at the university they wanted despite an incredibly tough year."
At Highworth School in Ashford, pupil Laura Yonish was celebrating.
Laura, 18, from Smeeth studied sociology, English literature and drama and theatre studies among others and got four A* grades.
She said: "I'm so happy and I'll be going to Exeter university to study English literature. I'd love to be a journalist because I've always enjoyed writing or if not that, certainly something to do with English."
Among the first pupils to collect their results in Medway were those at Fort Pitt Grammar School for Girls, in Chatham.
Fiona Young, 18, of Locksley Close, Walderslade, is aiming to study psychology at Oxford University after winning three A*s and an A.
She said: "I'd never thought of applying to Oxford until one of my teachers said I should so I thought I'd give it a go.
"My interview was terrifying. I'm really nervous about the future, but incredibly pleased with my results."
Fort Pitt head teacher Julia Bell said:"I'm over the moon, ecstatic with the success of my pupils. They've all worked really hard and I'm confident of the contribution they'll make to society."
Students at Fulston Manor School in Sittingbourne are also delighted with their success. 95% of A levels have been passed with over a third of them at grades A or B.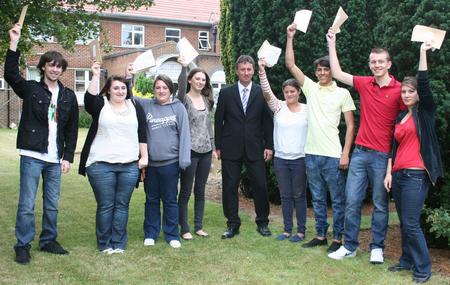 Picture: Pupils at The Westlands School
The Westlands School in Sittingbourne are celebrating too as they have gained a significant rise in the number of UCAS points per student - up 75 points from 2010. Overall the number of top grades doubled from last year with the overall A –E % standing at 99%.
Headteacher Jon Whitcombe said: "I'm delighted for our students' success in this year's Sixth Form examination results. We have seen our best ever set of examination results by far."
Audio: Students and parents at Valley Park, Maidstone
Update Required
To play the media you will need to either update your browser to a recent version or update your
Flash plugin
.
Students at Dover Grammar School for Girls are enjoying their best ever results at A level with 59% of the entries being awarded the top grades of A*-B.
The UCAS points per student rose to 463, again an all time high. Cherry Liu is celebrating after gaining seven A levels, with six at the top A* grade.
Robert Howell, one of a growing number of male students in the VI form will be taking up his place at Cambridge to read Anglo-Saxon, Norse and Celtic after gaining six A levels, with four at A* and A grades and Head Prefect Emma Castledine built on her successes last year by securing six A levels with no fewer than four at Grade A.
Headteacher Matthew Bartlett said: "This is a wonderful set of results, that is testament to the talents of a delightful group of students.
"We are also proud that our students perform exceptionally well in subjects such as Physics, Maths and History which are seen as particularly demanding."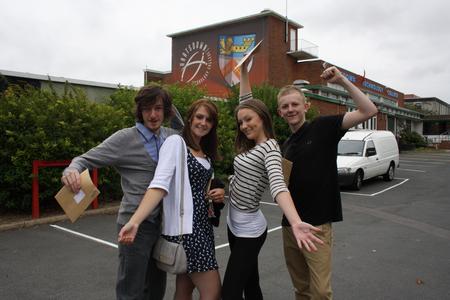 At At Hartsdown College in Margate, staff and pupils, pictured above, were celebrating an improvement on last year.
Principal Andy Somers said: "Our aim is to encourage our young people to raise their aspirations, to broaden their horizons, and to look beyond the accepted boundaries that many people are constrained by.
"Our focused learning from Year 7 right through college life to A Level really encourages our students aim higher and this year we have performed very well once again."
Top performing subjects included business, health and social care, media studies, with science and English consolidating on excellent results last year.
Notable successes included Sagar Sohan, whose three A level passes included an A in Maths.
Click here for more results from Dover
Head girl and head boy at St Edmund's Catholic School in Dover are the top achievers at A level.
Sophie Rowland has gained four A levels at grades A, B and two Cs, while Liam Clarke has gained three A levels at grades A* and two Bs as well as two AS levels.
Jasmin Anchor achieved the school's first ever A* in travel and tourism.
But not everyone will have received the grades they needed. Bev Woodhams runs the clearing process at Greenwich University, which has a campus in Medway, and said it is important to keep calm.
She added: "Speak to careers advisors or talk to teachers. Phone universities even and find out what can be done with the results the students have."
Are you getting your A level results today? How did you do? Do you want to congratulate someone who did well, or cheer up someone whose results weren't as good as they'd hoped? Join the debate below.