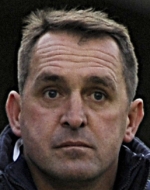 by Luke Cawdell
Gills boss Martin Allen will not be losing any sleep over the abuse from Cheltenham fans on Tuesday night.
Allen supported Cheltenham as a boy, during the time his father was managing the Gloucestershire club and had a brief stint himself as boss there.
"I have learned from a young age to shut those things off and just concentrate and do the job," said Allen.
"I had some magic times at Whaddon Road when I was a boy and nobody will ever take that away from me. I am fine.
"I took stick from those supporters but you have got to remember that I used to play in front of 10, 20, 30, 40, 50, 60,000 supporters every week when I played and I used to get that stick from the whole stadium, so a few hundred people calling me names?
"Well, you can imagine what it's like to me. It spurs me on and makes my shoulders go back higher and my step bigger. I kind of love it in a way."