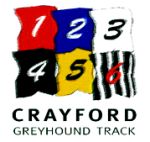 That amazing statistic that no ante post- favourite has ever won the Ladbrokes Golden Jacket remains intact after Bubbly Swallow made a shock exit in his semi-final race.
Having led for 600m, the dog struggled over the last 100 and was passed by Crinkill Jewel and Eden Rumble.
Crinkill Jewel was returned at odds of 7-1 out of trap six and the other two semis were won by trap six runners White Soks Roks and Paulines Pride.
These two were followed home by Droopys Xavier and Pony Bride to give us our six finalists for Saturday.
The trap draw gives us the daunting prospect of having no less than four "wide" runners going to traps.
The short straw went to Pony Pride, who will occupy trap three, with the other three wide runners, Crinkill Jewel, Paulines Pride and White Soks Roks, taking four, five and six.
The connections of both White Soks Roks and Paulines Pride will be happy enough with their traps but the fear is three and four will head straight for the outside which could both hinder the pair and perhaps, more importantly, give Droops Xavier in two and Eden Rumble in one a clear run.
The saving grace is that the race is over 714m and if they are close enough out of the second bend the dog with the necessary class should win.
While Paulines Pride is the only dog in the line-up that has won both his heat and semi-final races, he is the type who needs things entirely his way and this may not be the case on Saturday.
I know the connections of White Soks Roks have been keen on their dog's chances and will take encouragement from the semi-final win over Droopys Xavier, who went off as 9-4 favourite but Roks won by three-and-a-quarter lengths.
While Eden Rumble and Crinkill Jewel are in the final on merit, it would be a surprise should one of them win. However, they may benefit should there be major trouble early on.
While the connections of White Soks Roks may have been fearful of Droopys Xavier earlier in the competition, they should be full of optimism and take him to land the £15,000 prize. Gates open at 10am and the first race is at 10.38am.