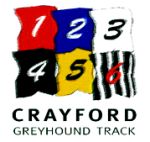 It was a case of so close but so far for selection Blue Glenard as she came home in second place in the final of the Tony Morris Memorial Rose Bowl at the weekend.
As I had expected, she trapped out well recording a fast sectional time of 3.54sec which was identical to eventual winner Selkirk Souter. While she had every chance around the first two bends, she found Selkirk just too strong crossing the winning line two and a half lengths behind the Crayford-trained Souter.
On a positive note, this was a great achievement by Crayford trainer Julie Luckhurst to get Selkirk Souter home in an improved race win time of 23.35 to land the £2,000 prize.
The winner won on merit having won her heat and semi-final races and on this evidence, will be a force to be reckoned with over the coming months.
Kennel-mate Tarsna Inca made it a double on the night for trainer Luckhurst when also winning the John Humphreys Stakes open race in a career best time of 34.27 over 540 metres.
She is also a dog that you should watch out for as she is a regular winner having won 10 of her 27 races at Crayford.
Risky Baba made it a win at the second time of asking for Crayford trainer Jean Liles when winning his A3 graded race over 380 metres.
The dog had previously came second in his debut race here a week earlier and having overcome bumping at the first bend, ran on strongly on this occasion to win in a time of 23.88.
While the greyhound has only had 29 career races, he has raced at several venues – Romford being the last – and used all of that experience to maximum effect.
Crayford should suit him as he clearly likes to race from trap one and has the early pace to win plenty of races.
Last Thursday afternoon's meeting saw all 14 races having trophy presentations, so unusually I was in a position to watch all the races live.
There were a couple of wins which impressed me and they came from Jolly Hi and Blow By Ruben. Both dogs had to overcome early trouble to win in their respective races but that is what made the manner of the win even more impressive.