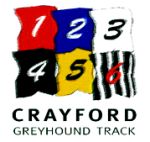 If it's value that you are looking for then Reluctant is your dog.
The Steve Gammon dog proved the point admirably last Saturday evening when winning a top grade S1 race over 540 metres at odds of 10-1.
The dog's previous two wins were in grades S3 and S2 also at fair odds of 5-1 and 4-1 respectively. Clearly the local layers thought that the top-grade race was one step too far, however the dog's record shows two runner-up slots before in this grade so that winning price looked too big on the night.
He is fast approaching his 100th competitive career race but nonetheless seems as good as ever against the best here.
You can expect a similar price in his next S1 race.
I have been watching with interest the progress of Tarsna Inca who has that little bit of class. She joined Julie Luckhurst's kennels earlier this year having had 23 races in Ireland.
Her Crayford record shows three wins from six starts which is an above average strike rate and I have been impressed with the manner of her wins which show plenty of early pace, a factor which will always win races here.
With wins now in grades A3 over 380 metres and S2 over 540 metres I am fully expecting the progress to continue. Take note in all six races here her starting prices have never been higher than 5-2 which shows that the bookmakers have respect for her.
Certain prefix names are always associated with certain trainers and the Mountcashel name belongs to dogs that race for trainer Gemma Davidson.
I had the privilege a couple of weeks ago of presenting Mountcashel Tuka with her 100 races at Crayford award, a particular favourite with the Davidson kennel.
The dog has been a tremendous servant so it was nice to see a new Mountcashel on the card last weekend in the shape of puppy Mountcashel Gift.
The August 2010 daughter of Droopys Vieri made it a winning debut on Saturday night but the manner of the win will have pleased her trainer.
Starting her career here in grade A4, she romped to victory in a time of 23.60 seconds and it looks like grade A3 is well within her reach. She looks set to follow on in Tuka's footsteps and I am confident she will win plenty of races here.