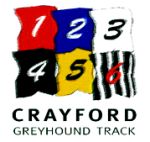 It is always good to see Crayford-trained greyhounds putting one over on the visitors in Open class races. There is nothing like a home win especially when the opposition is high class.
So a mention is due for Mollys Dilemma and U Make Me Smile who won well on last Saturday night's card.
Mollys Dilemma, trained by Paul Tompsett, has been in excellent form lately with three wins and a second in her last four starts.
Her win in the Open here at the weekend, however, has been the high point and that respectful starting price of 7-2 offered by the local layers suggested that she would figure prominently in the race over the 714-metre distance.
In 31 previous career races, this was the first time she started in trap five.
Any fears that her connections may have had about this wide trap draw were quickly brushed aside as she led away from the boxes recording a fast 23.59 seconds for the first circuit and was never headed on her way to a three length win in a decent time of 46.09 seconds.
With the likes of Bubbly Blues and Springwood Bob behind her, make no mistake this was a top class performance.
Her last graded race here was at S3 level so in this sort of form who is going to stop her in an S2 race next time? On paper she should stroll home at that level but how significant was that trap five draw at the weekend? We will have to wait and see.
Highlight of the evening for me was to see U Make Me Smile returning to the winner's spot in his Open race over 540 metres. I have a soft spot for the Julie Luckhurst-trained dog who was winning here for the first time since late January.
He has performed well over the last 18 months on the track's behalf and when he gets it right, he has the class as his winning time of 33.92 seconds reflects.
His last 17 races have all been in Opens and he seems to now be running into form and both he and Mollys Dilemma are worthy of support during the coming weeks.
One other to watch out for is Ascot Ava who has had a bit of a see-saw career to date.
She started in grade A5 then was subsequently dropped through grades down to A7.
She has completely turned this form around now and has climbed back up the grades, with a victory at the weekend in an A4 race.
There is no stopping her now, such is the racing game.