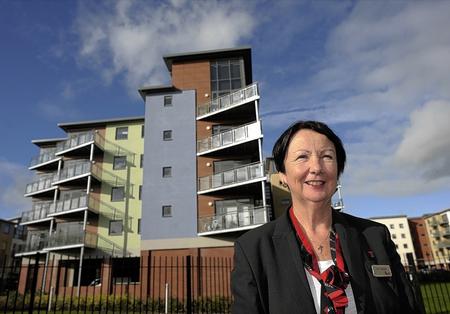 A sales adviser at a Maidstone housing development became so fond of her patch that she snapped up one of the homes herself.
During a seven-month stint at Kier Homes' Blue Quarter development in Maidstone, Ann Gillespie enjoyed spending her days showing prospective buyers around the collection of 281 apartments, overlooking the River Medway.
But as the apartments sold, one-by-one, she found herself wishing she could stay at the Hart Street development when it was time to go home.
Finally, she bought one of the two-bedroom flats for herself.
Ann, who has now moved in, said: "Working for Kier Homes at Blue Quarter, I knew exactly what the development offered to potential purchasers, such as the quality of the apartments, the landscaped setting overlooking the river, and its location within walking distance to the centre of Maidstone.
"I was selling apartments to the purchasers, but I began to realise that this was the lifestyle for me as well!
"I moved from busy Orpington town centre to this ideal setting and I know that it was absolutely the right move – investing in what I believe in. I love it here!"
Just 24 two-bedroom apartments are still for sale, so Ann is making the most of her present journey to work – a two-minute walk from her new flat to the sales suite.
The starting prices from the remaining two-bedroom apartments, with en-suite, are from £159,995.
For more information ring Ann and her colleagues on 01622 673007 or visit www.kierhomes.co.uk