Endangered Javan langurs and gibbons bred in Kent urgently need your help to return to the wild and ensure the future of their species.
The Aspinall Foundation, which runs Port Lympne and Howletts wild animal parks is appealing to readers to contribute to its Back To The Wild Appeal, which launches today, and aims to raise £10,000.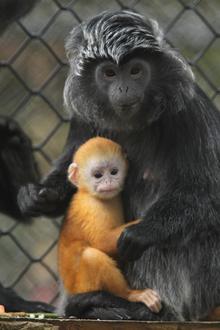 Money is needed immediately to fly a group of TAF-bred primates to the Javan Primate Rescue Centre (JPRC) opened in 2011.
The Aspinall Foundation needs to raise £10,000 to pay for transport this summer for eight Javan langurs and a female Javan gibbon Regina to its primate project on the island.
The female langurs are Diamond, Linseed, Tambor, Tango, Dwale and Tequilla and the males are Mycella and Adzuki.
The cost breakdown for each animal is £1,500 for the flight to Java, £50 for transport in the UK, £5 per day for food and £3 for bedding.
The foundation is appealing for donations - which can be made through text message - from families, businesses, schools and community groups.
Javan gibbons are a fast vanishing species and the most endangered of the gibbons.
They are also one of the great success stories at Howletts and Port Lympne.
The two wild animal parks between them hold about half the world's captive population and have celebrated more than 50 births.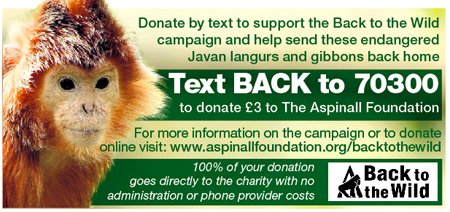 Gibbons are native to south-east Asia, from Assam to Indonesia. Their future is threatened by the steady destruction of their rainforest habitat.
Amos Courage, overseas project director said: "The Aspinall Foundation is proving itself to be at the cutting edge of reintroduction science as well as helping to preserve the wilderness habitats that these individual animals are released into."
Jamie Robertson, deputy head primate keeper, said: "This is what The Aspinall Foundation is all about – it's great to be able to release captive born animals back to the wild where they belong."
---
Wild at heart KM Readers can give the appeal a major boost by rustling up a team to enter the annual KM Dragon Boat Race.
Every penny our brave adventurers raise will go to the Back to Wild Appeal by taking part in this fun, adrenaline pumping event.
To take part in the KM Dragon Boat Race you will need a crew of 11 or more people who will take part in a minimum of three races at Mote Park, Maidstone on Sunday, July 1.
If you have a pool of more than 11 simply swap crew between heats. To book a boat online costs £400, but teams taking part to raise funds for the Back to the Wild Appeal can receive a special discount code reducing the cost by £50.
Crew members must pledge to raise a minimum of £150 each. Teams entering typically raise between £2k to £5k for their chosen good cause.
To find out more or to book your boat online go to www.kmcharitychallenge.co.uk Use the discount code KMDBF12.