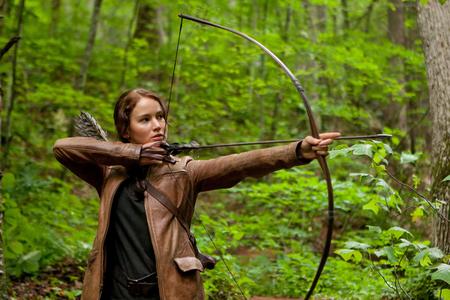 Review: The Hunger Games (12A, 142 mins)
Action/Drama/Romance. Jennifer Lawrence, Josh Hutcherson, Liam Hemsworth, Alexander Ludwig, Woody Harrelson, Stanley Tucci, Elizabeth Banks, Lenny Kravitz, Donald Sutherland, Wes Bentley, Willow Shields, Amandla Stenberg. Director: Gary Ross.
by Mara Podaru
The Hunger Games proves that good book-to-film adaptations do exist. Set in fictional Panem, (the ruins of North America), the Hunger Games are the government's way of controlling the masses by forcing children to fight to the death on live television.
Oscar-nominated Jennifer Lawrence is superb as Katniss, the tough, reluctant heroine who takes her sister's place in the Games. Director Gary Ross allows the audience enough time at the start to get to know her and to understand how overwhelmed she is by everything.
But the ending is disappointing; after building the tension for over two hours, there is no relief at the movie's finale. The lead characters struggle to come to terms with what has happened to them and there is no sense of triumph for those that survive the horrifying Games. The ending is bleak and serious, and leaves the audience torn between sadness at the characters' struggle and celebrating their victory.
Ross shot most of the film on handheld cameras, making it more intimate and allowing the focus to be on characters' emotions. But it also, at times, becomes too chaotic, the camera shaking so badly it feels almost like a sequel to Cloverfield.
But overall, The Hunger Games is one of the best book adaptations I have seen, a gripping, action-packed film that draws you in and keeps you on the edge of your seat until the end.
Do you agree with this review? Leave a comment in the section below with your thoughts.