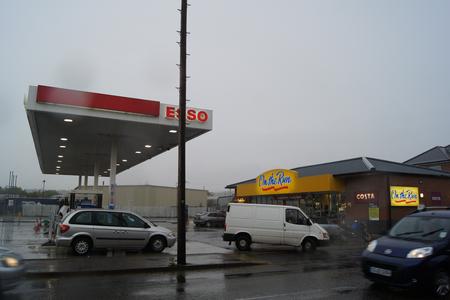 by Ed Targett
A man believed to be carrying a handgun has been arrested by armed police in a dramatic raid on the outskirts of Canterbury.
Two police units in a BMW 4X4 and a Volvo estate swooped on a Sturry Road petrol station to hold the 27-year-old suspect, who is alleged to have threatened to kill with the weapon.
The manager of the Esso service station refused to comment, but witnesses said the arrest had been fast yesterday afternoon.
Photographer Graham Mitchell said: "There were no flashing lights when I arrived and the officers were loading their guns into the van.
"The service station was operating as usual so it looked like it must have been pretty fast and effective."
Kent Police spokeswoman Jane Walker said: "Firearms officers were making an arrest of a 27-year-old man from the Canterbury area following a report on Sunday afternoon that a man had been seen with a handgun outside a house in the Court Hill area of Littlebourne.
"The man was arrested at 6.30pm in Sturry Road, Canterbury, on suspicion of making threats to kill and currently remains in police custody."