A midwife has made a very special delivery – her own grandson!
Virginia Howes delivered her daughter Sophie Harrell's baby boy Jesse in a birthing pool at Sophie's Ashford home.
A delighted Mrs Howes said: "It was written in the stars that I should help Sophie.
"My whole career has been leading to this moment. Looking after my own daughter was an honour."
Miss Harrell, 25, from Lansbury Walk, Orchard Heights, Ashford said: "I'm absolutely over the moon.
"It's a life changing moment and the happiest of my life."
Miss Harrell had a short labour of just five hours, but her waters had broken 32 hours previously.
Baby Jesse weighed in at 7lbs 2oz when he was born at 10.30am on Wednesday, August 31.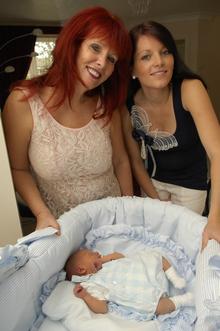 Mrs Howes, a mother of four, runs Kent Midwifery Practice, an independent service based from her home at Romney Point, Ashford and specialises in natural childbirth in a safe and supportive environment.
It's unusual but not unheard of for midwives to become involved in the care of their own family, although some medical professionals questioning whether it is appropriate for them to do so.
But Mrs Howes, 52, said: "There is no reason I cannot be a mother and a professional at the same time.
"And we had a back-up plan in case there were any complications or if I became too emotionally involved."
Jesse is Mrs Howes' second grandchild.
She also delivered her son Andy's child Luca but says the experience with her daughter was very different.
The Kentish Express has previously reported on Mrs Howes' work in promoting breast-feeding.
She previously produced a music video featuring a group of 'yummy mummys' to try and counter public perceptions of breast-feeding as 'unsexy'.
And her passion and belief in her profession has been inherited by her daughter.
Just one week prior to giving birth Miss Harrell also qualified as a midwife.
Speaking about her mum's involvement, she added: "I have grown up with midwifery, from talking to my mum as a child to going to watch births as a teenager.
"I wouldn't have felt comfortable with anyone else looking after me.
"Being in my own home with just my mum and partner Robert was a lot more natural and less high pressure than a hospital would have been.
"I felt totally in control and confident in myself and my mum's ability to look after me."