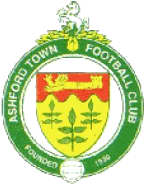 by Alex Hoad
Ashford Town have resigned from the Ryman League and are understood to be pursuing a future in the Kent League.
The club told officials of its intention to withdraw from Ryman League Division 1 South at a board meeting on Tuesday morning.
A statement on the Ryman League website said: "At a board meeting this morning the Directors of the League were disappointed to receive the resignation of Ashford Town FC from the League with immediate effect."
The move has led to Chatham being reinstated into Ryman League Division 1 South having been switched into the north division at the end of last season.
The league statement added: "Ashford wish to move to the Kent League and the League will not object to this providing all monies due to the League are paid."