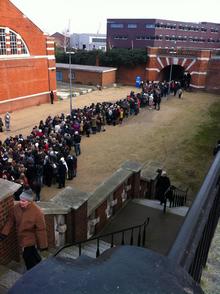 Hundreds queued up in freezing temperatures to stand a chance of appearing alongside Hollywood actors.
Young and old braved the cold as auditions were held for the chance to appear alongside Hollywood stars in a big-screen adaptation of one of the world's most popular musicals.
Filming for Les Miserables, starring cinema heartthrobs Hugh Jackman and Russell Crowe, gets under way next month.
Producers held auditions at Chatham Maritime yesterday as they searched for hundreds of extras.
But scores were left disappointed, as they were turned away despite waiting for hours.
Police were called in to help ease the frustration for the would-be extras.
Casting sessions were held at the University of Kent's Rochester building.
The casting company was looking for people aged 16 to 90 to play characters from 19th century France.
Roles include villagers, passer-bys, nuns, students, military officers, convicts and many more.
The lucky ones will be paid £110 per day. Filming will take place in Chatham in March.
Les Miserables is a musical theatre production by Claude-Michel Schönberg, based on the novel by Victor Hugo.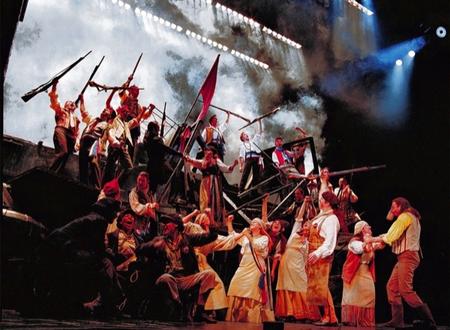 It is set in early 19th-century France and follows the stories of many characters as they struggle for redemption and revolution.
Did you audition to become an extra? Let us know how you got on below.