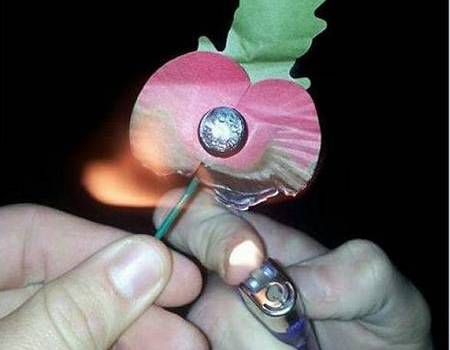 A teenager has been released on bail after being arrested for allegedly posting an offensive comment alongside a picture of a burning poppy on Facebook.
Linney House, 19, from Aylesham, near Canterbury, was quizzed by police yesterday as it emerged his grandfather was a Merchant Navy hero.
Kent Police said they were contacted at about 4pm on Remembrance Sunday and alerted to the image.
The picture showed a Royal British Legion paper poppy being held to a cigarette lighter. A four-letter obscenity was posted above.
House, pictured below and whose full name is Linford House, was arrested on suspicion of an offence under the Malicious Communications Act - just hours after an Armistice Day service was held in his village.
Families in his village also told how his grandfather, Ronald House, was hailed as a "hero" in the Merchant Navy.
Cllr Bob Thompson, who runs a boxing gym, said the incident had
"stunned" the community and cast "a dark shadow" over the village's Remembrance Day.
He said: "It is such a shame - we had a fantastic ceremony to pay our respects to fallen servicemen.
"The image on the internet has cast a dark shadow over Remembrance Day.
"I don't know the lad who has allegedly done it myself, but I knew his grandfather Ronald House - who was a great bloke."
Ronald House was awarded the Workers' VC in 1954 after he dived into icy water to try and save a sailor near the coast of Newfoundland.
Linney House, who previously worked at the White Hart pub in Canterbury, is said to be a keen sportsman and a member of the Snowdown Colliery Rugby Football Club, where his father Keith is club captain, according to its website.
Chairman Jim Ritson said: "He [Linford House] has always been a very dedicated rugby player and always seemed like a great lad.
"As a club we will be meeting up to discuss the matter and to discuss how we deal with the situation."
The poppy is an international symbol of remembrance for soldiers who have died during wartime.
The arrest came after dozens of services were held across Kent to mark Remembrance Sunday.
A statement by police said a 19-year-old had been interviewed by detectives and released on police bail, pending further investigation.