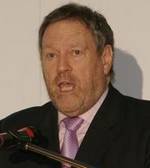 The BBC's shock decision to axe news anchors Geoff Clark and Beverley Thompson has been called "bonkers".
A source inside the corporation's Tunbridge Wells office has told KentOnline their colleagues were in tears when bosses told staff and morale is said to be at "rock bottom".
"Staff are shocked by the decision. Some people were in tears and there are a lot who think it's the wrong decision," the source said.
Many viewers have reacted angrily to the controversial decision and several have voiced their opinions on KentOnline (comments can be read below this article).
The source claims bosses concede that ratings could dip when the presenters go and it could take time for them to recover. "When they say long-term, they're talking two-and-a-half years, which seems absolutely bonkers to me."
Clark and Thompson are credited with turning around the fortunes of BBC South East Today after the show was "a ratings disaster" against its rival ITV Meridian Tonight.
Clark, a former Sky reporter, switched from ITV in 2004 in a move regarded as a massive coup for the BBC. After he teamed up with the experienced Thompson, a former health correspondent, the BBC overhauled Meridian in the ratings war.
Bosses want a new look and create a "seamless" programme with the earlier Six O'Clock News.
Staff claim the decision by Quentin Smith, editor, and head of region Mick Rawsthorne was based on conversations with 16 people in a "focus group" and follow-up contact with a further 820 people.
The research allegedly found that the existing presenters were "not very popular". The younger pairing of Rob Smith and Polly Evans, who replace Clark and Thompson in October, were more popular and showed more vitality.
Bosses deny ageism - but the source added: "A lot of us do think age has certainly come into this. Throughout the last 10 years, they've always been trying to chase a young audience.
"They're obsessed because the argument is that older viewers will die off. But what tends to happen is when people get older, they watch more local TV. That older audience is always being replaced."
Clark and Thompson are prevented from talking to the media - but the source said they are "gutted" and concerned their reputation has been damaged.
Mr Rawsthorne said: "We know viewers will miss Bev and Geoff and I can assure the audience that this decision was not taken lightly. Both are excellent presenters in their own right and their warm, engaging, humorous partnership has been the backbone of the programme for five years.
"Our audiences tell us they want to see the big news stories affecting the region and these changes reflect the more journalistic approach that viewers are asking for in today's climate."
Mr Smith said: "Both Rob and Polly are already known to viewers as much for their professionalism in reporting as for their presenting abilities. They have both developed their skills here at South East Today and, while I know Bev and Geoff will be a hard act to follow, we hope viewers will take Rob and Polly to their hearts."