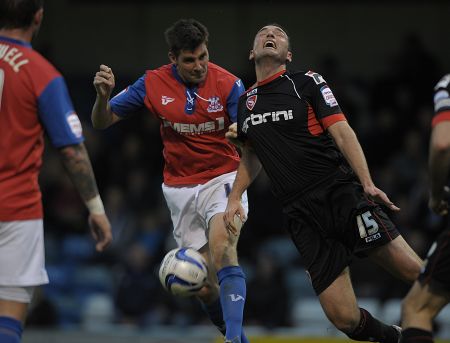 By Luke Cawdell
A first-half booking left striker Ben Strevens frustrated but he was still delighted to see Deon Burton score in injury-time to give Gillingham a 2-1 victory against Morecambe on Saturday.
Strevens became the latest player to be substituted at half-time due to a yellow card picked up early on in a game.
"It was a soft booking but as soon as I got it I knew what the outcome was going to be," said the 32-year-old.
"Early on in the season we had a couple of occasions where players had two yellows and we ended up being down to 10 so we are all quite aware that, especially first half, if you get a yellow you pretty much know you are coming off.
"Obviously I was a little disappointed but Myles (Weston) came on and did well and so has Deon (Burton). It shows the squad is the most important thing."
Last weekend Strevens was taking the congratulations, after scoring Gills' opening goal against Plymouth, but it was Burton taking the plaudits on Saturday.
"We were all up jumping around on the bench when Deon scored," said Strevens.
"It's a team game and at the same time when I scored last week Deon was one of the first to jump on me. We don't care who scores, as long as we are successful and we get the three points."
Was it the right decision to bring Ben Strevens off at half-time? Have your say below.