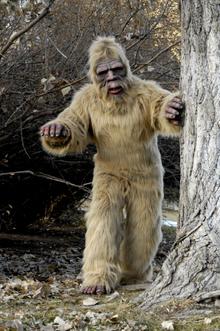 A strange Yeti-like beast is said to be stalking the quaint streets of Tunbridge Wells.
That's according to a walker, who is reported to have seen the 8ft tall beast (similar to that pictured left) in woods near the town's common.
Describing it as having "demonic red eyes and long arms", the ape-like creature is alleged to have roared at the walker, who ran off in fear.
An article in the Sun claims there have been a number of sightings of the mythical beast in the past six months.
But some locals believe it is all a prank, or a joker wearing a fancy dress costume.
But sightings of the so-called Kentish Apeman go back decades - with the creature first spotted in the same spot during the Second World War.
Have you seen Big Foot? If you've ever seen the Yeti in darkest Tunbridge Wells join the debate below or email us with words and pictures at multimediadesk@thekmgroup.co.uk