A binge-drinking mum-of-two will spend Christmas and New Year evenings indoors after a judge ordered her house arrest.
Carly Dunn – who goes by the surname Griggs - had going to prison after breaching orders imposed for affray.
The 25-year-old High Street fashion shop saleswoman was stopped in May this year after a car crash in Stodmarsh Road, Canterbury involving a silver Peugeot.
A taxi driver who was following the car in Littlebourne Road later told how it had been "swerving all over the road" and he had flashed his lights until it stopped.
Cabbie Adrian Yeatman then spoke to a blonde driver advising her to stop as he believed she was drunk - but the female driver just sped away.
Dunn admitted drinking in the Seven Stars Pub and couldn't remember driving the car - or how she got to Stodmarsh Road.
The car was found by Mr Yeatman upside down and on the wrong side of the road and Dunn was spotted "staggering from side to side" walking down Meadow Rise, Canterbury Crown Court heard.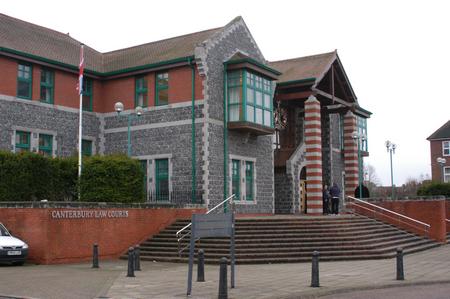 Dunn, from North View, Hersden, then became "hysterical, screaming and demanding to go home, " said prosecutor Ian Foinette.
She then dug her fingernails into a police officer's fingers before spitting at him twice and had to be restrained during her arrest.
The prosecutor said that at hospital she offered to give blood for an examination of her alcohol level - but then threw the equipment onto the floor refusing to allow a test to be carried out.
A year earlier, in May 2011, she had been arrested after a car crash on the A28 in Hersden when she spat at and kicked a policeman and screamed at his female colleague: "I hope your daughters get raped!"
The two assaults on police officers and failing to provide a specimen of breath were also committed in breach of an earlier suspended jail sentence for affray.
But despite her latest outburst – when she admitted assault on a police officer and failing to provide a specimen – she avoided jail again, despite it being the second breach.
"you have two children – you don't seem to keep them in mind when you commit offences" – judge michael o'sullivan
Instead, she was given an 18 month community order which requires her to take training to deal with her aggression.
Dunn will also have to do 100 hours of unpaid work for the community, has been banned from driving for three years and will be made to do an extended driving test before she can get behind the wheel of a car again.
Dunn – who sobbed through her sentencing hearing – was then told she will have to wear an electronic tag, and was ordered to stay at her home between 9pm and 6am for the next three months.
Judge Michael O'Sullivan told her she had "richly deserved" going straight to prison – but agreed to a community punishment after hearing she had already taken steps to deal with her alcohol problems.
He told her: "You have two children – you don't seem to keep them in mind when you commit offences.
"It is quite clear you have drink problems and those problems, in all probability, will need further work to prevent you re-offending.
"I am not going to send you to prison – although you richly deserve a prison sentence – but you are going to have to work hard in the community."
Her barrister Thaiza Khan said Dunn was taking "anti-abuse medication" to tackle her alcohol problems and may be suffering from the attention disorder ADHD.