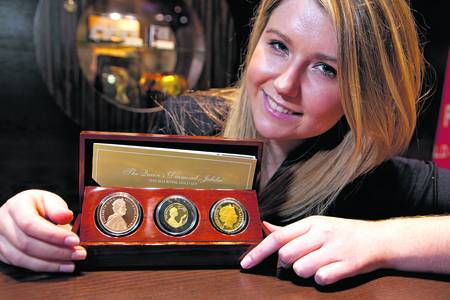 by business editor Trevor Sturgess
Valuable gold coins celebrating the Queen's Diamond Jubilee are being sold to Kent customers... for £8,250.
The coins - from the UK, Australia and Canada - are in only 400 sets worldwide.
The Scoin Shop at Bluewater is thought to be the only outlet selling the exclusive Diamond Jubilee set.
It features three gold proof coins – one from each of the Royal Mints. They include a 50c coin from Australia, a $300 coin from Canada and a Diamond Jubilee £5 coin from the UK. The Canadian coin features a real diamond.
Collectors unable to meet the price tag could instead buy a three-coin silver set for the more modest sum of £299.
The Scoin Shop, which is also offering Olympic Games commemorative coins, sold more than 350 last year featuring the Duke and Duchess of Cambridge's engagement at £1,750 each.
It has been the retailer's fastest selling commemorative gold coin and is now valued at £3,300
Alan Demby, the Scoin Shop founder and bullion expert, said: "There is a marked upward trend in value in some commemorative and rare gold coins rather than generic bullion coins.
"This is due to their limited mintage and the event they commemorate. A Diamond Jubilee is a a rare once-in-a-lifetime opportunity for the Commonwealth and the world."
With gold trebling in value over the past decade, he believes 15% of every investment portfolio should be gold coin.
There are 28 Scoin Shops in the UK and South Africa. The first opened in Sandton City, Johannesburg, in 1999.