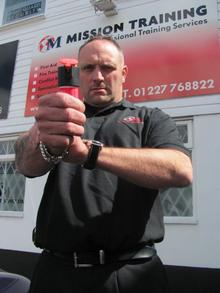 Nightclub bouncers are using a new crime-fighting spray which brands troublemakers - so police can catch them later.
Wincheap-based Right Guard Security is pioneering the device which it hopes will help bring thugs and drunks to justice.
Door staff at Canterbury's pubs and clubs have been issued with the spray called Red Offender ID in a bid to cut crime.
It allows them to mark those suspected of being involved in disturbances outside venues.
The firm says police can then identify the suspects and pinpoint their whereabouts.
Right Guard managing director Tony Smith has issued the spray to his staff and is leading classes in how to use it.
He said: "Firstly, it marks the offender with red dye making it easier for police officers to identify them.
"It also has unique bio-synthetic DNA which means people can be linked irrefutably to a location.
"The spray also distracts and deters the offender.
"The spray is a unique crime fighting tool and is ideal for security workers.
"Its appearance mirrors the look of CS gas or pepper spray and that can help subdue people."
What do you think of bouncers using this spray? Post your comment in the box below.