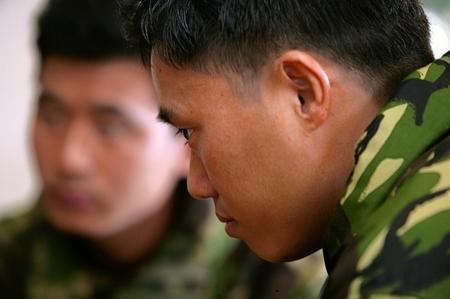 A Gurkha who single-handedly fought off 30 Taliban insurgents has been honoured by the Queen today.
Sgt Dip Pun, 32, of the Folkestone-based 1st Battalion Royal Gurkha Rifles, used up all his ammunition and threw grenades at the attackers.
When his weapon was damaged, he lobbed a machine gun tripod at one of the insurgents.
He said he was spurred on by the belief that he was going to die - and so had nothing to lose.
Corporal Dipprasad Pun today attended the ceremony to pick up the Conspicuous Gallantry Cross at Buckingham Palace.
Sgt Dip, who lives in Ashford with his wife Shobha, said: "In that situation 15 minutes is a long time.
"But at the time I didn't worry about anything, I was just fighting. I didn't get a chance to think.
"All I knew was that the Taliban were going to overrun our checkpoint, so acted to save my own life and also my friends."
The incident happened when he was one of four soldiers at a small outpost during the Battalion's recent tour of duty in Afghanistan.
Only when all his ammunition had gone did he move into the safety of the sangar.
His actions are cited as being the "bravest" seen in his battalion over two hard tours.