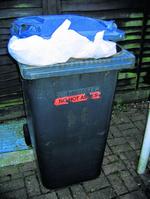 A suspected burglar had a rubbish excuse after being tracked down in a police chase... to a bin!
It comes after a family heard a noise coming from downstairs at around 2.15am on Wednesday at their home in Beauvoir Drive, Kemsley.
Police were called after a man was seen fleeing through a front door, believed to have been running towards Edyngham Close.
The police helicopter was scrambled, as wells as a dog unit and the suspect was found empty-handed in a bin (similar to the one pictured left) behind a property in Gregory Close.
Residents living in the area posted messages on the Facebook group 'The Gossip Board' about hearing officers on board the chopper using a loud hailer telling the man to give himself up.
A searchlight was also said to have woken people.
A 20-year-old Sittingbourne man an has been arrested in connection with the incident. He has been bailed to return to Medway police station on February 6.