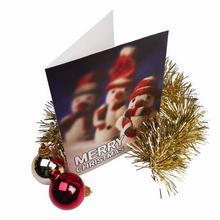 An elderly woman has been targeted by a burglar who distracted her... with Christmas cards.
The 88-year-old bought a set of festive cards from the man who knocked at her door in Walmer, near Deal.
But he returned a few days later and asked to have the cards back.
The woman left him in her living room while she searched for them.
After the man left, the victim spotted her purse - containing about £100 -and several bank cards had been stolen.
The burglar is described as white, 5ft 7ins, with brown curly hair. He was clean-shaven and wore a light brown suit jacket.
He struck at about 3.30pm on Saturday, but Kent Police have only just released details.
For safety advice from Kent Police on how to combat bogus callers, click here.