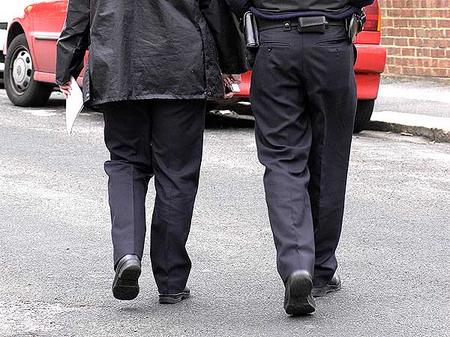 Kent's bobbies are only pounding the beat for less than 12% of their day, a campaigning group has revealed.
A report gathered using official police data showed there were 3,843 police and PCSOs employed by the force in February this year.
But of those just 11.6% were "visible and available" at any one time.
The statistics, compiled by the TaxPayers' Alliance, showed Warwickshire had the highest cost for every visible officer outside London. There were 8.2 officers visible for every £10m.
That compares with Kent, where there are nearly 14% of officers available for every £10m spent on policing. In total, Kent spends more than £315m on keeping our streets safe.
Kent comes in around average for the country for the amount of time officers are out and about and available.
In a statement, Kent Police said the county was one of the safest places to live in the UK - with nearly 45,000 fewer victims of crime in the last five years.
It said: "This so called `measure' of 'visibility' in the report is a one-size-fits-all approach that does not take account of nearly 1,000 uniformed Kent officers and staff engaged in highly visible specialist functions.
"We have over 300 uniformed officers involved in ports policing that are seen by over 30 million people from Kent and beyond that are not counted in these statistics as 'visible'.
"It also takes no account of the 24/7 shift systems that police officers work to keep people safe."
The spokesman also referred to the work of the Serious Crime Directorate - the largest in the country.
The unit's work didn't count as 'visible' but their results in taking criminals off the streets of Kent certainly were, she said.
She added: "Police visibility is certainly important, but it is only one element of policing and there is much more all police forces have to do - much of which cannot be visible - in order to effectively fight crime."